Due to ongoing global component supply shortages and strong demand, availability of new Mitsubishi Motors vehicles may be impacted and extended wait times may apply. This may result in a change to vehicle specifications and/or price point at time of delivery. Please contact your preferred Mitsubishi Motors Dealership for the latest information.
Overview
The Ute you want. The Ute you need.
Triton Double Cabs combine legendary Triton toughness with bold contemporary styling, the latest technology, and comfort that is second to none. Powerful performance backed by integrated safety and connectivity make Triton a choice that appeals to the head and the heart. GSR's black 18" alloy wheels, blacked-out grille and roof make a sporty statement, with leather appointed heated front seats among a host of desirable interior features.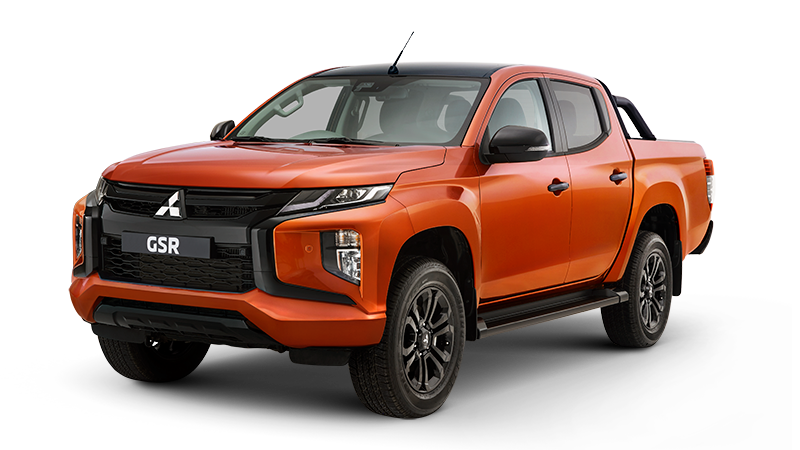 Triton ability.
For any eventuality.
---
Power & Torque
133kW & 430Nm
Towing
3.1 Tonne braked towing capacity
6 Speed Transmission
Manual & Automatic
Explore the Triton How to Series
Mitsubishi Diamond Advantage
Built and backed for your business
---
Because your customers are counting on you, Mitsubishi offers Australia's only 10 Year New Car Warranty with 10 Years Capped Price Servicing. It's a guarantee of integrity and service standards that set us apart from other automotive manufacturers. The Mitsubishi Diamond Advantage program is our commitment to you for complete peace of mind. We're a business partner you can count on.
10 Year New Car Warranty10
10 Years Capped Price Servicing2
Genuine Servicing, Parts and Accessories
Inspection and Maintenance
---
Explore Diamond Advantage
Performance
---
Workhorse grunt. Thoroughbred refinement.
---
2.4 litre MIVEC turbo diesel engine
---
Key to Triton's standout performance is Mitsubishi's 2.4-litre MIVEC engine. This DOHC common rail diesel engine is turbocharged and intercooled for dominant performance and optimum efficiency, delivering peak torque of 430Nm at 2500 rpm and 133kW of power at just 3500 rpm. Triton's low-down grunt means you can enjoy spirited performance as well as serious cargo capacity, with a braked towing capacity of 3100kgT1. Constructed with lightweight materials including an aluminium block, the engine is among the smoothest, quietest and most efficient engines on the market, combining outstanding performance and unfussed efficiency in one potent package.
Tight turns
11.8m turning circle
Triton's unique J-line design enables exceptional manoeuvrability and fuel economy without compromising interior cabin or load space. Its compact wheelbase allows an outstandingly tight turning circle of just 11.8 metres, making parking a negotiating tight spaces easy.
Power & Torque
133kW & 430Nm
Triton's 2.4L MIVEC turbo diesel engine might not weigh much but it's no lightweight in the performance stakes, with 133kW at 3500 rpm and a stump-pulling 430Nm at 2500 rpm giving you the grunt you need, when you need it.
6 Speed Transmission
Manual or automatic
Take control in any driving conditions with Triton's 6 speed manual gearbox. The short-throw gear lever and light-action clutch offer precise shifts and make long days a breeze. The 6 speed automatic transmission with optimised top gear ratios deliver improved fuel economy and quiet operation at high speeds, with the Manual Shift Mode giving you sporty, manual-like control with a flick of the lever.
Braked towing capacity
3100kg
Double Cab Triton models have a braked towing capacity of 3.1 tonnes and a Gross Combined Mass of 5.885 tonnes. Its low kerb weight means Triton offers the perfect balance of payload and towing capacity.
Super Select II 4WD
---
Experience surefooted performance in any conditions with Mitsubishi's Super Select II 4WD system on Triton GLS and GSR. This advanced system lets you switch between 2WD and 4WD modes at up to 100kmh, so you can adapt to changing road conditions on the fly. Super Select has four modes to handle everything from smooth city lanes to hazardous conditions and extreme terrain with minimal grip levels, all controlled with a single switch.
2H
2H (2WD High Range) drives the rear wheels only, delivering optimum fuel efficiency in normal driving conditions.
4H
4H (Full Time 4WD) sends power to all four wheels, ideal for rough roads or when conditions become hazardous.
4HLC
4HLC (4WD High Range with locked centre differential) minimises wheelspin in rugged terrain with low grip levels.
4LCC
4LLC (4WD Low Range with locked centre differential) harnesses Triton's power and torque at low speeds to deliver maximum traction on steep climbs, sand and deep snow.
Engineered to perform
---
Triton has never been afraid of a challenge, at work or play. For over 40 years Australians have relied on Triton for the hard stuff and the fun stuff.
Engineered to perform, Triton combines performance and the latest technology into one tough ute. GLS 4x4, GLX-R 4x2 and 4x4 and GSR 4x4 Double Cabs bring sports truck styling, with 18" alloy wheels, LED Daytime Running Lights, plus an array of MiTEC safety and connectivity technology.
Rugged, Robust and Dynamic
---
Underneath Triton's stylish, aerodynamic body is a rigid ladder chassis, ensuring solid handling and dynamic stability whether you're on the highway or finding your own way. Up front, the double wishbones with coil springs and stabiliser bar deliver poise and responsiveness, while the rugged above-the axle leaf spring rear suspension gives outstanding traction and load-carrying capacity.
Make light work of heavy loads
---
All Double Cab Tritons feature a capacious cargo bed measuring 1520mm in length, 1470mm in width and 475mm in depth, reinforced for durability. The single handle on the tailgate allows for one-handed operation and the four integrated cargo hooks allow for all types of loads to be secured with ease. Triton's impressive power and torque mean big loads are no big deal.
Colour options
Triton colours
GLX

GLX+

GLX-R

GLS

GSR Roll Top Tonneau Pack
Carry five adults in comfort in Mitsubishi Triton Double Cabs. Rear seat passengers are well catered for in the spacious cabin, with generous leg room and a reclined seatback angle allowing ample, head and shoulder room. Heated, leather appointed fronts seats in GSR add a welcoming, luxurious touch, with power adjustment for the driver's seat.
Mitsubishi Motors Intuitive Technology
---
Mitsubishi Motors Intuitive Technology, or MiTECK0, combines a range of innovative technologies into one integrated system that works constantly to keep you safe, comfortable and entertained every time you drive.
Passive and active safety systems work in unison, alerting, guiding and reacting to help keep you and your passengers safe.
Learn more about MiTEC.
Ultrasonic misacceleration Mitigation System (UMS)K7
Blind Spot Warning (BSW) & Lane Change Assist (LCA)K8
Rear Cross Traffic Alert (RCTA)K9
Lane Departure Warning (LDW)T2
Hill Descent Control (HDC)T4
Multi Around MonitorT5
Forward Collision Mitigation (FCM)K10T2
Auto High Beam (AHB)T4
Hill Start Assist (HSA)
Auto Rain Sensing WipersT2
Auto Dusk Sensing Headlamps+
Reverse Parking Camera and Parking SensorsT3
Trailer Stability Assist (TSA)
Anti-lock Braking System (ABS) & Electronic Brakeforce Distribution (EBD)
Forward Collision Mitigation (FCM)K10T2
Mitsubishi Motors' Forward Collision Mitigation system detects obstructions ahead and issues a visual and audio alert where there is a danger of collision, automatically applying the brakes to avoid collision or reduce impact.
Automatic High Beam (AHB)
Mitsubishi Motors' Auto High Beam detects both the headlights of oncoming vehicles and the taillights of vehicles ahead, automatically switching between high and low beams.
Auto Dusk Sensing HeadlampsT2
Standard in the Triton GLX ADAS, GLX+, GLX-R, GLS and GSR Double Cab models, headlights will automatically illuminate in fading light or when you're travelling through a tunnel.
Multi Around MonitorT5
Mitsubishi Motors' Multi Around Monitor provides a 360° bird's eye view of your car. The view from cameras mounted on the front, rear and sides of the vehicle (including bird's-eye view) can be displayed in various combinations to reveal what is in blind spots and help you park more safely.
Camera and Parking SensorsT3
Mitsubishi Motors' Reverse Parking Sensors assist when parking in tight spots. Sensors detect and warn you if you're getting too close to objects behind you when reversing into a parking spot.
Ultrasonic misacceleration Mitigation System (UMS)K7
Mitsubishi Motors' Ultrasonic misacceleration Mitigation System reduces the chance and severity of hitting obstacles 4m in front or behind when a driver mistakenly presses the accelerator when stationary or at speeds of up to 10km/h.
Hill start Assist (HSA)K9
Steep city streets or congested shopping mall ramps are no longer a problem with Mitsubishi Motors' Hill Start Assist technology. It prevents the car from rolling backwards by maintaining braking force to give you time to move your foot from brake to accelerator.
Blind Sport Warning (BSW) and Lane Change Assist (LCA)K8
Mitsubishi Motors' Blind Spot Warning and Lane Change Assist helps you change lanes with confidence. The Lane Change Assist system sounds an audible alert and displays a blinking warning in the door mirrors when the system detects a high collision probability with a vehicle coming from behind moving in the same direction within 3.4m from your vehicle's side or rear bumper.
Auto Rain Sensing WipersT2
Triton GLX ADAS, GLX+, GLX-R, GLS and GSR Double Cab models are also equipped with front wipers that activate automatically when
moisture is detected on the windscreen, allowing you to keep your hands on the wheel and your focus on the road ahead.
Lane Departure Warning (LDW)T2
Mitsubishi Motors' Lane Departure Warning issues an audible alert and shows a warning on the multifunction display if your vehicle drifts from its lane while the turn signals are not operating.
Hill Descent Control (HDC)T4
Mitsubishi Motors' Hill Descent Control enables you to maintain a constant speed by controlling brake pressure according to the condition of the ground when going down a steep gradient at speeds between 2km/h and 20km/h.
Safety
Anti-lock Braking System & Electronic Brakeforce Distribution
---
Mitsubishi Motors' Anti-lock Braking System allows the driver to maintain steering control of the vehicle and manoeuvre around obstructions in heavy braking situations.
Mitsubishi Motors' Electronic Brakeforce Distribution works hand-in-hand with your cars Anti-lock Braking Systems computer to assess load and distribute braking force between the front and rear wheels. When you have a load in the rear, it helps you stop in a shorter distance than with standard brakes.
Accessories
Personalise your Triton
---
Enhance your Triton with Mitsubishi Genuine Accessories designed, engineered and manufactured to ensure perfect fit, function and longevity, with competitive pricing and Mitsubishi quality. Choose individual accessories to suit your needs, or select from our Work Pack, Tradie Essential Pack, Starter Pack, Polished Pack or Black Pack.
---
Download accessory packs
Roof carrier cross bars
Engineered to Mitsubishi's high standards, these roof racks allow for flexible cargo carrying and are available with a load capacity to suit your vehicle.
Note: You must include the weight of the racks in calculating the load on the roof racks in relation to the rated capacity.
Weathershields
Available separately for the left and right windows of your vehicle, these handy weathershields can deter rain and run-off water from entering your cabin so you can drive with your window slightly down in rainy conditions.
Headlamp protector
Designed to follow the contours of your vehicle's headlamps, these protectors are constructed of heavy duty acrylic to deflect flying stones from damaging your headlamps. They are ideal for vehicles that will be used in the country or on freeways, where damage is most likely to occur. They are easily removed and reattached for cleaning. Note: Sold as a set of 2 to suit left and right headlamps.
Bonnet protector
The Bonnet Protector is constructed of heavy duty acrylic and deflects flying stones from damaging the bonnet. It is ideal for country driving, where damage is most likely to occur. It is also easily removed and reattached for cleaning.
Note: Available in clear or tinted finishes.
Rubber mat set - front and rear (high edge)
Designed to follow the floor line contours for a perfect fit, these floormats keep your footwells clean, perfect for muddy worksites and weekends off the beaten track. Available as a set of front and rear mats, they also feature an anti-slip design for absolute safety.
Cargo tie down kit
Suits Triton Double Cab with and without Genuine tub liner fitted, great for safely securing your load. Features fixing rails and adjustable eyes, rated at 250kg per rail.
Towbar kit
This Genuine towbar package includes a towbar, tongue, wiring harness and 7-pin flat plug. A 50mm towball and chrome towball cover are also available separately.
Range
Triton Double Cab Range
Choose the right Triton for you
Triton Club Cab
---
The GLX Club Cab - Cab Chassis and GLX+ Club Cab - Pick Up 4x4 models have all the features you'd expect in a hard-working truck with extra room to carry gear in the cabin or rear seats for the occasional passenger.
Exterior features include clamshell style doors and platform style side steps (GLX+) for easy access.
Triton Single Cab
---
The Mitsubishi Triton GLX Single Cab-Cab Chassis 4x2 and 4x4 models are robust, powerful, comfortable and packed with exceptional safety features – all you need and more to get the tough jobs done.